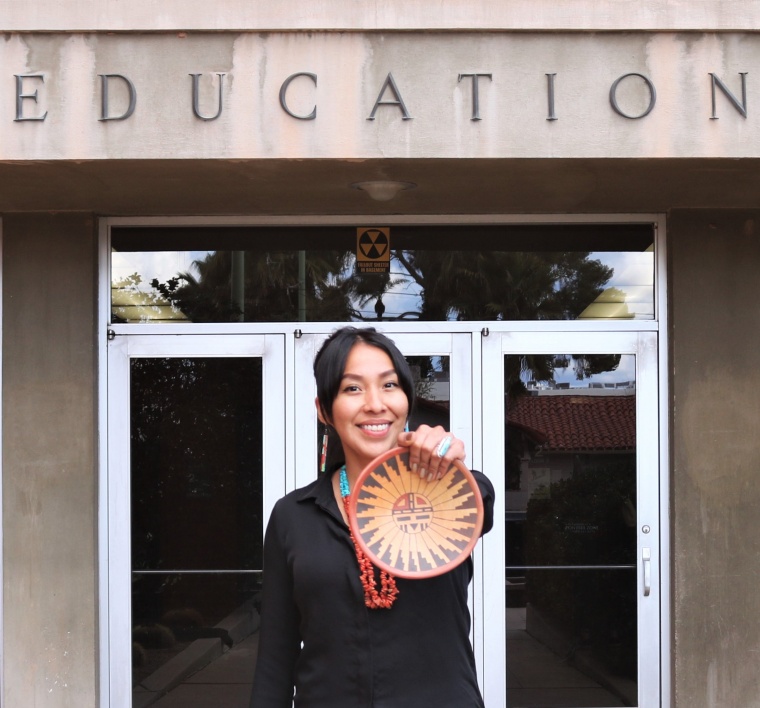 College of Education room 802A
IngriQue "Q" Salt, Lók'aad Dine'é, is from Black Mesa and is the Project Coordinator for UA ITEP. Q also works with the UA School of Animal and Comparative Biomedical Sciences and the Miss Native American UA Ambassadors. Raised with a strong focus on traditional stories, prayer, and lifeways in her family, Q also accompanied her father in the mobilization of traditional healing practices. These perspectives provide a strong foundation upon which to advocate for and develop the structures necessary to help tribal community members develop, refine and attain their goals.
Q received her Bachelor of Science in Psychology and Cognitive Science, with a minor in American Indian Studies at the UA in 2015. During her time at the UA as a first-generation, Q was a Research Assistant studying, cancer pathways and exposures, uranium contaminated water, cognitive behavioral development and environmental health literacy development.
Q thrives on bringing community members together to identify issues and create community-based solutions. As Tribal Liaison for the Southwest Environmental Health Sciences Center (SWEHSC) at the UA College of Pharmacy, Q focused on environmental health education, literacy, outreach and community-based projects in tribal communities of Arizona. During her time at SWEHSC, Q's leadership increased Arizona tribal communities served from three of twenty-two tribes in Arizona to nine – a 200% increase. Further, four tribal communities have successfully developed Memorandums of Agreements to ensure tribes are partners in ongoing collaborative research.
ITEP's value to create Nation-Builders for tribal communities strongly resonates with Q. As a Navajo Nation citizen, Q understands that to effectively advocate and develops skills in others, she must do so for herself. To this end, Q is developing her skills and knowledge to be an active Nation-Builder by pursuing her law degree in Indigenous People's Law and Policy and the Environment.