ITEP 30-Minute Application Workshop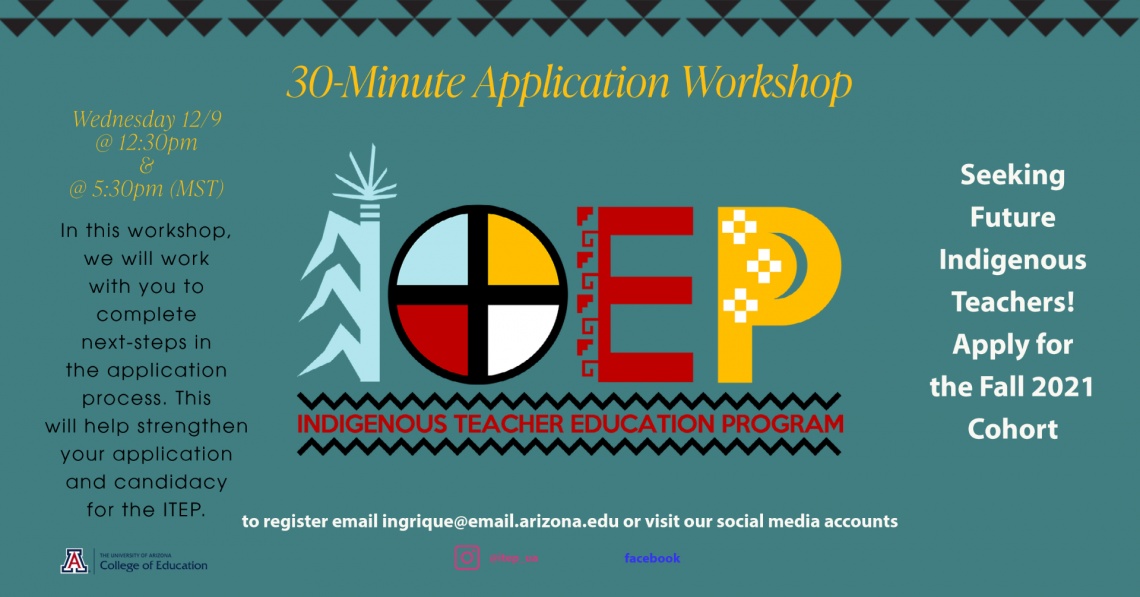 APPLY for Fall 2021 Cohort!
The UA College of Education Indigenous Teacher Education Project (ITEP) is currently recruiting teacher candidates for the Fall 2021 cohort. ITEP is a program that prepares future Indigenous educators to integrate their tribal values and language in presentations, lesson plans, and activities. ITEP was founded in 2016, through a grant from the US Department of Education. Our mission is to increase the number of Indigenous teachers serving Indigenous students, schools, and communities. ITEP is dedicated to developing critical/justice-oriented, and culturally sustaining educators who promote strength and well-being within Indigenous communities. ITEP teacher candidates will examine their own cultural identities in relation to the making of an Indigenous teacher.
If you are interested in applying or thinking about applying, I encourage you to send your unofficial transcripts to our academic advisor Sara at sme@arizona.edu
If you would like to hear more, please register for our upcoming ITEP Informational Session (10/28) and Application Workshop (10/29) 
Requirements  
Must be an enrolled member of a Tribal community. 
Must have AGEC-A or equivalent and Elementary Education prerequisites met and transferred to the UA by: August 20th, 2021 
Must apply and be admitted to both the ITEP program and the UA by posted deadline